In the News
Current

12/2018 Ron Medley and MSAM Fnancial Advisor, Chris Pelley, were interviewed by Finance Monthly. Benjamn Graham said "successful investing is about managing risk, not avoiding it". In this article, Ron and Chris talked about the investment philosophy and strategies used for clients. The article can be found at Finance Monthly Magazine.
To view the December 2018 magazine, please click on this link.

11/2017 Ron Medley was interviewed by Amy Armstong, Advisors Magazine, to discuss the effects of recent changes by the Department of Labor on investors. In the article, "Willingness to Educate Clients - Creating Wealth and Building Opportunities", Ron offers his perspective on working with clients who may be new to the investing world. The article can be found at Advisors Magazine.

To view the November 2017 magazine, Issue 81, please click on this link.
Ron Medley Travels to Capitol Hill to Speak with Elected Officials
03/07/13 - St. Louis, Missouri – Ron Medley, President of Moloney Securities Asset Management, recently helped lead a grassroots effort on Capitol Hill...see the complete press release.
Archived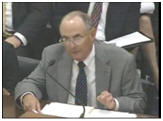 09/23/09 John Moloney testifies before the US House of Representatives Small Business Committee regarding Financial Regulatory Restructuring and it's potential affect on small investment firms. As Chairman of the Securities Industry and Financial Markets Association (SIFMA) Small Firms committee, John carried a message of support for consumer financial protection.

08/24/09 The Moloney Securities Growth Composite was noted as a top performer in the Aug. 24th edition of Barron's. In addition, Ron Medley, was featured in the Aug. 24th edition of Pensions and Investments. In that article, "Top-Performing equity managers," by Timothy Inklebarger, Ron discussed his recent performance and what he feels are the driving forces behind his continued success. It is available on the Pensions & Investments website.

12/07 Moloney Securities Growth Composite and Ron Medley interview in On Wall Street magazine, December, 2007 issue. Article "The Top of the SMA Heap," by Bennett Voyles, is available by searching for Ron Medley on their website: On Wall Street magazine